I am fluent in Spanish and am able to work with families of bilingual makeup.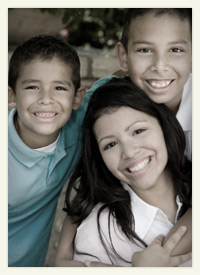 Como terapeuta, he trabajado con la población de habla hispana por más de seis anos. Mi experiencia como terapeuta incluye consejera familiar, individual, grupo y pareja. Mi especialidad es trabajar con niños y adolescentes. Yo, Mary Ortenburger, estoy certificada en matrimonio y terapia familiar. Puedo ayudarle a usted y a sus seres queridos con cualquier problema relacionado a: trastorno alimenticio, depresión, ansiedad, trauma y conflictos familiares. Por favor, póngase en contacto conmigo con cualquier pregunta que pueda tener acerca de los servicios de terapia o de mi práctica. Mi número de teléfono es: 562-281-7752
After learning Spanish in the community and gaining extensive exposure to Latin culture, I began using my linguistic skills in a therapeutic setting while in graduate school working as an intern. During this time, I worked with numerous Spanish speaking clients at a non-profit clinic, and obtained my initial experience conducting therapy in Spanish. Later, I moved on to facilitate family sessions in Spanish while working in a residential treatment facility for eating disordered clients. I then transitioned to a community outpatient clinic where I was employed for over five years, and worked extensively with the Spanish-speaking population. In my current practice, I continue to serve a vast number of Spanish speaking clients and their families.