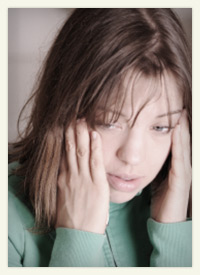 In my practice, I treat various types of anxiety disorders including:
• Obsessive Compulsive Disorder
• Generalized Anxiety Disorder
• Panic Disorders
• Unspecified and Other Specified Anxiety Disorders

In working with individuals presenting with issues related to anxiety, I implement the use of various techniques to help clients reduce their symptoms and better manage their mood. Each client's experience is unique, and the underlying cause of their anxiety and stress may vary depending on several factors. In addition to traditional talk therapy, I also incorporate mind-body approaches in working with anxiety, including Trauma Sensitive Yoga and Trauma Informed Yoga. These interventions can include both body movement (asanas), breathwork (pranayama), and other parts of the 8 limbs of yoga to address nervous system dysregulation, bringing the autonomic nervous system (ANS) back into regulation.
My focus in working with clients who are struggling with anxiety is first to create a comforting and validating environment in which they feel safe. Once a sense of safety is established in the therapeutic relationship, I work collaboratively with the individual to create a treatment plan customized to their unique needs.