SIGN UP NOW
RECORDED VIDEO FLOWS
An Introduction
As a trauma therapist, I draw on various modalities of treatment in my work with clients, including mind-body approaches. Talk therapy as a stand-alone model has demonstrated limitations in the successful treatment and resolution of trauma. EMDR is one approach to trauma treatment which incorporates the body by targeting memories and reconsolidating memoires through bilateral eye movements or tappers. Yoga has also become a modality of treatment for trauma in psychotherapy, including Trauma Informed Yoga or Trauma Sensitive Yoga. After observing the benefits of my own yoga practice on my well-being, I began my journey of training to become a Certified Trauma Informed Yoga Therapist (C-IAYT) with the International Association of Yoga Therapists, and also pursued certification in trauma informed yoga modalities. I am a Licensed Clinical TIYT Facilitator of the Overcome Anxiety Program with the Sundara Academy, a certified trauma informed yoga teacher, and a registered yoga teacher RYT-500, E-RYT 200, and YACEP. I am on track to complete my certification as a Certified Yoga Therapist (C-IAYT) in November, 2023.
In addition to being a Registered Yoga Teacher (RYT-500), and yoga therapist in training, I have additional trainings and certifications in: Trauma Informed Yoga Training with Transcending Sexual Trauma Through Yoga, Yin Yoga, Yoga Nidra, and Restorative Yoga. I certified as a Level One iRest teacher, a type yoga nidra developed by Richard Miller designed to suit the conditions of modern life. Yoga nidra has been shown in research to help reduce stress, anxiety and insomnia. My training also includes yoga wall fundamentals, and the studio offers yoga wall classes for clients interested in a supportive standing practice, with the option of inversions. Yoga wall practice can help improve overall flexibility and mobility in the joints and spine, build strength in both the large and small muscle groups, and aids students in the ability to access various muscles groups in poses they are not yet able to achieve on the mat. In addition, I am a certified provider of the Safe and Sound Protocol (SSP). The Safe and Sound Protocol is an evidence-based therapeutic method involving filtered sounds to reset the nervous system and return it to a feeling of safety. I am also a certified personal trainer, CPT.
Currently, I am offering yoga therapy groups with specific focuses that run as a four part series. Our August/September group and October group will focus on trauma and have both in studio and zoom options. Each session focuses on a different aspect of healing using a mind-body approach including: nervous system regulation, grounding practices, breath work, and meditation. We have a yoga therapy meditation group in person for a 3 session series starting September 9th and running until September 30th. This ground will focus on stress reduction and the cultivation of inner peace through meditation. To sign up, click the link above and select packages, then choose the group you would like to join.
If you are interested in participating in trauma informed yoga practices through an online platform, I have several videos from my earlier teachings on my YouTube Channel at: Insight Yoga Therapy and I have a subscription/membership for on-demand classes using recorded weekly classes on Vimeo. On this platform, students have unlimited access to most of the classes offered from my studio, or they can choose to buy a single class as an option.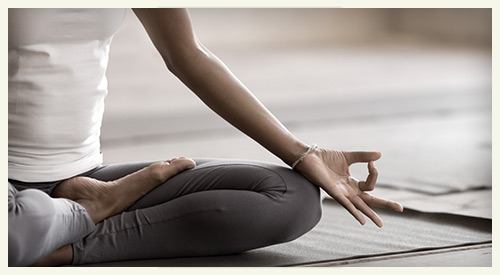 Trauma Informed Yoga Classes
During the summer of 2021, my practice expanded to include a trauma informed yoga studio, where trauma informed yoga classes were offered as an adjunct to treatment for clients and members of the community. The studio expanded in 2022, and  classes are offered on weekends, weekdays, mornings and evenings. Sign up information as well as class times can be found using the following link: https://www.vagaro.com/us02/insightfamilytherapygroupinc
Yoga classes will be conducted to aid students seeking to augment their current treatment using a mind-body approach to alleviating symptoms of: PTSD, trauma, dissociation, anxiety and depression.
**The term trauma-sensitive yoga was coined by David Emerson, E-RYT, founder and director of yoga services at the Trauma Center at the Justice Resource Institute in Brookline, MA. This type of therapy uses yoga as an adjunctive treatment within a clinical context. Experts in the field of trauma, such as Bessel van der Kolk, MD, have promoted and researched the use of trauma informed yoga to help clients access and regain regulation of the body, reduce anxiety and rumination, and improve a body acceptance and awareness.
Contrasted with other modalities of trauma treatment, Yoga Informed Trauma Therapy does not aim to target emotions or access traumatic memory. Instead, the goal of this modality of treatment with client is to enhance a sense of body awareness: for clients to notice what is occurring inside of their bodies and discharge fear, anxiety, tension, and unwanted arousal, and to expand the window of tolerance related to body sensations. In the field of trauma, there is a growing awareness and research surrounding the impact of trauma on the body and mind. As the traumatized body reacts with either dampening or moving into arousal, avoidance or hypervigilance, despite the presence of current trauma, individuals begin to experience difficulties with self-soothing, often resorting to harmful coping tools to alleviate their distress. Trauma informed or trauma-sensitive yoga allows clients to quiet their minds and self-regulate their bodies, which in turn, allows them to better regulate their emotions. Bessel van der Kolk, among others, have found trauma informed and trauma sensitive yoga to be a highly effective modality of treatment for PTSD and trauma. As mindfulness based practices continue to grow and are supported by research in their efficacy for anxiety, depression, chronic pain, and trauma, more and more clinicians are turning to these practices for promoting healing.