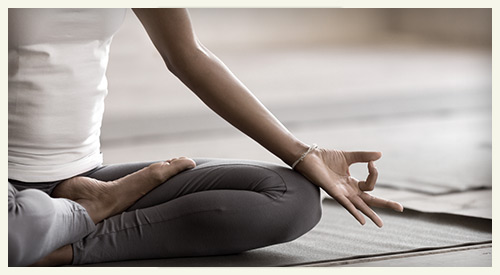 As a trauma therapist, I draw on various modalities of treatment in my work with clients. Over the years,  working with traumatized patients utilizing EMDR, I continued to encounter body sensations, anxiety, and dysregulation that was not cleared with simply using EMDR. Due to this, and in my own research of a more bottom up (body to mind, rather than mind to body) process, as well as polyvagal theory, I began reflecting on my own yoga practice, and how this both transformed and moved emotions for me, without the use of words. Trauma presents itself in individuals in very complex ways, and my interest became focused on trauma treatment that involved the body more, as opposed to more cognitive therapy processes. After much research, and due to my own personal experiences practicing yoga for several years, I decided to train in a Trauma Informed Yoga Treatment. Currently, I am enrolled with The Sundara Academy, and have begun my journey to become a Trauma Informed Yoga Therapist (TIYT) Clinical Facilitator. In addition, I am in the process of also becoming a Registered Yoga Teacher (RYT) through Yoga Renew, in order to fine tune my skills as a yoga practitioner and also as a Trauma Informed Yoga Therapist. The use of Trauma Informed Yoga combined with EMDR treatment continues to evolve, and I am enrolled in an EMDR and Trauma Informed Treatment training in January of 2021.
The term trauma-sensitive yoga was coined by David Emerson, E-RYT, founder and director of yoga services at the Trauma Center at the Justice Resource Institute in Brookline, MA. This type of therapy uses yoga as an adjunctive treatment within a clinical context. Experts in the field of trauma, such as Bessel van der Kolk, MD, have promoted and researched the use of trauma informed yoga to help clients access and regain regulation of the body, reduce anxiety and rumination, and improve a body acceptance and awareness.
Contrasted with other modalities of trauma treatment, Yoga Informed Trauma Therapy does not aim to target emotions or access traumatic memory. Instead, the goal of this modality of treatment with client is to enhance a sense of body awareness-for client's to notice what is occurring inside of their bodies-and discharge fear, anxiety, tension, and unwanted arousal, and to expand the window of tolerance related to body sensations. In the field of trauma, there is a growing awareness and research surrounding the impact of trauma on the body and mind. As the traumatized body reacts with either dampening or moving into arousal, avoidance or hypervigilance, despite the presence of current trauma, individuals begin to experience difficulties with self-soothing, often resorting to harmful coping tools to alleviate their distress. Trauma informed or trauma-sensitive yoga allows clients to quiet their minds and self-regulate their bodies, which in turn, allows them to better regulate their emotions.